Website Details

As well as being available by your bedside, you can find Southend Hospital Radio when you leave the hospital, via our website.
Here, on our recently re-designed website, you can find an up-to-date programme guide, pictures of the hospital radio team, some more information on what we do, and details of how to become a volunteer.
The site also has information on upcoming fundraising events, and some handy local links
Our site's design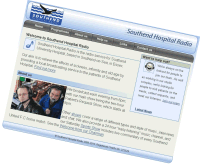 When planning the recent re-design of our site, there were a number of factors to take into account. Many of today's websites use new technologies such as Flash and video as part of their design. While this can make websites look visually impressive, this can create problems for online visitors using older web browsers or logging in from a mobile phone.
To make our site as accessible as possible, we've kept our design simple and hopefully easy to navigate. We have tested it on a range of different operating systems and browsers as well as on mobile phones. Another important factor in the re-design was to ensure that the site was "optimised", so that it would be indexed by the leading search engines and could be found easily by visitors using web search engines such as Google and Bing. If you find anything that's not working, please notify our webmaster.
About our visitors
To improve the quality of what we offer on our site, we make use of what's known as "web analytics", which tell us a little about our online visitors.
This shows us which sections of our site are most popular, highlights any problems, and shows when people visit. From these statistics, we can see that the most popular time of day to visit our site is 5 o'clock in the afternoon, and our busiest online day is a Thursday. The "How to become a member" and "Meet the team" sections are our most popular.
Behind the scenes
The Southend Hospital Radio website has been created using WordPress, and is hosted by G-Net Online.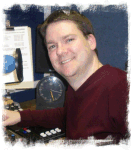 The site's webmaster is Pete Sipple. Pete joined us in 1985 as a technical operator, when the station was known as Thameside Radio. Pete eventually become Chief Engineer at a radio station in London, followed by several years as IT Manager for a group of commercial radio stations. Pete has working in the broadcast and IT industries for many years, and now looks after a number of websites, including the site Sarfend.co.uk, which is a local interest site for Southenders.
As well as working on various online projects, Pete finds time to teach courses on radio broadcasting and search engine optimisation at South Essex College.
Website comments
If you have any suggestions for improvements, please send our webmaster a message.
Happy surfing!