Profile: Pete Sipple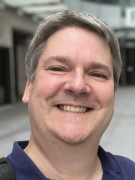 My radio career started back in 1985 when I joined the team at Southend Hospital Radio at the tender age of 16. Back then, the radio station was known as Thameside Radio, and my first role was as a Technical Operator, meaning that I looked after playing in the jingles and working with presenters to make sure the shows sounded great and ran to time.
In the late 1980s, I found myself working for the local commercial radio station, Essex Radio, before I moved to a radio station in London. I then returned to Essex Radio, firstly in Production, before moving into the technical and IT side of the industry. I was responsible for the IT for a number of radio stations including Essex FM, Breeze, Ten17, Oasis and Vibe FM.
In more recent years, I worked in Project Management for companies including Psion and Adobe, as well as on mobile phone projects for Nokia and Sky TV. These days, I run a local Internet consultancy.
Radio is still very much in my blood. I teach a weekend course in Radio Broadcasting at South Essex College, present an award-winning technology podcast called FrequencyCast, and write articles for a broadcasting-related website.
In my spare time, I'm heavily involved with another aspect of radio, known as Amateur Radio. As a "radio ham", I experiment with aerials, transmitters and can make contact with people around the world without the need for phone lines or the Internet.
As well as being a committee member here at Southend Hospital Radio, I also present FrequencyCast on a Wednesday and Saturday morning, as well as Sounds of the 80s on a Monday evening.