Programmes
From Joe Smith, our Programme Controller: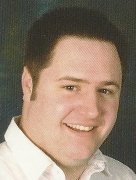 Programming on Southend Hospital Radio is something we take very seriously, and we try our best to make sure we cater to all tastes. We hope you'll find something within our schedule to help make your stay here in the hospital a little brighter and maybe while away an hour or two.
Our dedicated and professional team of presenters and ward liaison volunteers come from all walks of life; many of us work full-time or part-time in the radio industry and all of us have a real passion for doing our best to make you smile. Among our current on-air team you'll find a professional actor, a lorry driver and even a tax collector!
We aim to be "a friend at your bedside" and we hope you'll turn to us to provide you with some light relief, entertainment or even just some music during your stay here.
Request programmes are broadcast throughout the week and you're very welcome to choose your own favourite song; we'll do our best to play it for you. Text us any time on the number you'll find in this magazine or call us during broadcast hours.
If you have any feedback (good or bad) on anything you hear, or that you'd like to hear on our channels, please let me know – you can reach me via our Contact Us page.
Enjoy our programming!
Joe Smith
Programme Controller
Handy Links:
Hospital Radio Top 20 – Our top twenty most requested songs
Join Hospital Radio – How to become one of our team