Supporting Mental Health Minute 2021
This Friday, the 14th of May 2021, Southend Hospital Radio will unite with every radio station in the UK for the 2021 "Mental Health Minute"
Millions of radio listeners around the UK, as well as patients and staff listening on the wards at Southend University Hospital, will hear a special message from The Duke and Duchess of Cambridge, David Beckham, Dame Shirley Bassey, Joanna Lumley and Essex-born celebrities Jamie Oliver and Anne Marie.
Marking the end of Mental Health Awareness Week, the message will be broadcast at 10:59am on Friday, with the aim of reaching over 20 million listeners.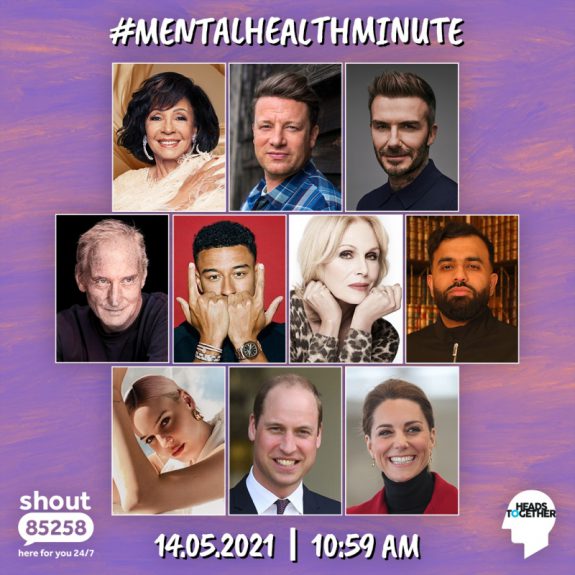 To listen to this unique message, go to www.getshr.uk at 10:59am on Friday.
Pete Sipple, Chairman of Southend Hospital Radio said: "The last year has been tough on many of us, and the Mental Health Minute highlights the importance of being able to reach out for help from organisations such as Shout 85258 when it's needed. At Southend Hospital Radio, we're proud to be one of 500 radio stations broadcasting this unique mental health message, and to be able to make this available to patients and staff listening within the hospital."
Anyone who's in need of support can text 85258, 24 hours a day.
More information
The event hashtag for the event is #MentalHealthMinute
This year, for the first time, the initiative is supporting Shout 85258 – the UK's first free, confidential, 24/7 text messaging support service. The service provides round-the-clock support from clinical supervisors and trained volunteers to ensure no one has to face their problems alone. Shout was researched and developed by The Royal Foundation of The Duke and Duchess of Cambridge as a legacy of the Heads Together campaign.
Their Royal Highnesses, The Duke and Duchess of Cambridge will voice the minute alongside influential voices from sport, music, and film. Featuring in the 2021 Mental Health Minute are:
• Anne Marie
• Charles Dance
• Dame Shirley Bassey
• David Beckham
• Hussain Manawer
• Jamie Oliver
• Jesse Lingard
• Joanna Lumley
• The Duke of Cambridge
• The Duchess of Cambridge
Simulcast to millions of listeners towards the end of the 2021 Mental Health Awareness Week – a national week hosted each year by the Mental Health Foundation, this year's Mental Health Minute encourages everyone around the UK to keep talking about mental health. The message highlights how vital talking can be – just one conversation can be an incredibly powerful step for someone who is struggling with their mental health.
The script has been written by poet, writer, and mental health activist, Hussain Manawer, who has been a long-time supporter of both Shout 85258 and the mental health campaigns Heads Together and Heads Up, run by The Royal Foundation.