Profile: Joe Smith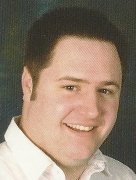 Hi, I'm Joe, and I've been part of the team here since 1997. I was born and raised here in Southend, and I live on the garrison in Shoeburyness.
In the real world, I work for an airline and fly all over the world five days a week. It isn't unusual for me to arrive on a flight from New York and drive straight to the radio station to present my programme!
When I am on-air, I try and make the programme as entertaining as possible, chatting between the songs, broadcasting quizzes and every week we go "Up Your Area" taking a look at local events happening around Southend.
I am also part of the committee, currently in the position of the station's Programme Controller. Over the years I have worked for other radio stations too and I worked for a while doing voiceovers for advertisements.
I hope you get a chance to enjoy some of Southend Hospital Radio's programmes while you're staying with us here in the hospital. If we can make your stay brighter by playing you some of your favourite music then please just get in touch by telephone, text or email (See: Contact us).
Wishing you all the best for a speedy recovery!