New Year with The Big Broadcast
Southend Hospital Radio saw in the New Year by taking part in "The Big Broadcast 2018". This on-air event involved over 35 hospital radio stations link together to keep patients around the UK entertained for a 42 hour marathon broadcast.
Here's a short extract from the 2018 Big Broadcast, including a list of the hospital radio stations that took part, a mention for Southend Hospital Radio, and the Big Broadcast team welcoming in 2019.
The Big Broadcast's schedule included a national request show, live music, and the Big Broadcast Pantomime. The studio's antics were also broadcast via a live studio webcam, which had over 1,000 visits over th2 42 hours.
Between the Christmas and New Year period, our volunteers were broadcasting programmes to the patients at Southend University Hospital, including the station's two youngest presenters, Kara and Kathryn (both 11 years old). "Southend Hospital Radio Kids at Christmas" kept the youngsters on Neptune Ward entertained with a mix of music and Christmas Cracker jokes.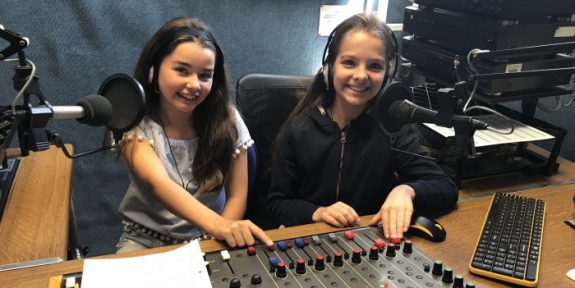 Also broadcast over the festive period, a two-hour Boxing Day lunchtime special, hosted by KnnyB & LaineyM, and featuring songs from John Denver, Abba and Jessie J.
Southend Hospital Radio's Chairman Pete Sipple said:
"We know it's not a great time to be in hospital, and we hope that our mix of live shows, messages, features and requested songs kept patients entertained over the festive period. We've been broadcasting for over 40 years, thanks to our team of dedicated volunteers. It's great that we could provide a kids Christmas show for the first time this year, and also take part in The Big Broadcast to link the various hospital radio stations together to see in 2019"
If you know of someone in hospital, let them know that Southend Hospital Radio can help to brighten their day and keep them informed of news from around the hospital. The station can be listened to on any Internet-enabled device such as a smartphone, tablet or laptop by going to www.getshr.uk
Southend Hospital Radio is also looking for volunteers, so if one of your New Year Resolutions is to give something back, then the radio station would welcome helpers to visit the wards and help present shows to make patients' stay in hospital a little brighter. You can find out more details here: Volunteer for Southend Hospital Radio