2016 Patient Magazine Out Now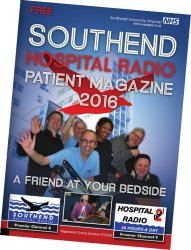 The 2016 of the Southend Hospital Radio Patient Magazine is out now.
In here, you'll find information about the radio station, our current programme schedule, and profiles of some of our team.
Our ward teams will be bringing copies around the wards, and if you see one of our request collectors in the hospital, ask them for a copy.
You can read an electronic version of the magazine here on our site, from the following link
We hope you find this latest issue of interest