Profile: Mike Royston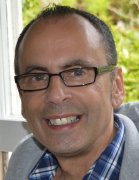 I first heard about hospital radio when I visited my aunt whilst she was a patient in Southend Hospital in the late 1970s. During my visit, my aunt said with glee that patients were entertained with a bingo game that was broadcast on their bedside radios.
Then, in the summer of 1979, I read an article in the Evening Echo saying that Thameside Hospital Radio (as Southend Hospital Radio was then known) needed volunteers. It was to help in their studios, and sounded interesting, so I went along to find out more. I didn't know that it would involve ward visiting, but within a very short time of being shown around the wards, I found I really enjoyed chatting to patients, and here I am still enjoying visiting the wards, over 30 years later!
I have also enjoyed presenting a wide range of programmes over the years, including the local news, specialist music, request shows – and I brought back the free bingo game that my aunt enjoyed so much when she was a listener.
Over the decades, I've seen many changes at our radio studios; from requests and programmes played on 78 rpm and vinyl records and reel-to-reel audio tape, and a handwritten record library, to today's digital recordings and a computerised record library.
I've met so many lovely people over the years during my visits to the wards – patients, visitors, and hospital staff, as well as many hospital radio members.
The pleasure of chatting with a patient and playing a favourite piece of music for them hasn't faded for me – I enjoy it as much now as I always have. Every listener and radio programme is unique, and the timeless pleasure of sharing the magic of music remains the same. I hope you enjoy listening to Southend Hospital Radio, and wish you well very soon.