Profile: Maurice Jardine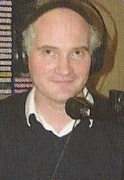 Hi, my name is Maurice Jardine, and I have been a member of Hospital radio for over 20 years. Time does fly, especially when you do something as rewarding as helping to provide a service to those who like to listen.
As a member, I have gone round the wards and collected many requests. There is nothing like taking down favourite requests or even helping patients choose some music they like.
Music is one of my interests, and I have noticed how listener's tastes have changed over the years. When I started, the favourite record was Engelbert Humperdinck's 'Please Release Me', but now tastes have changed and more modern music is requested. One thing is certain is Frank Sinatra is as popular as ever and 'New York, New York' is a favourite request.
At present, I do a show on Tuesday evenings called Films, Shows and Classical Music or FCS for short. This is the sort of my music I play for you.
So if you're listening, please do give me a call on the hospital radio request line and let me know if I am playing the right sort of music. If not I can always play something especially for you