Profile: Lainey Mullan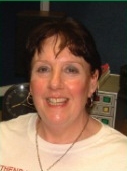 I am Lainey Mullan known as LaineyM and I am a member of the Friday Southend Hospital Tonight team and also present "Sunday Prescription" between 2-4 pm every Sunday. I always have a theme for this programme, no matter how obtuse.
I am also the Secretary to the Committee for Southend Hospital Radio.
In "real life" I work for a local firm of solicitors and I have been a member of Southend Hospital Radio since December 2007 – my how time flies when you are having fun. My spare time (!) is also taken up with Southend 1312 Squadron Air Cadets where again I act as Secretary for the Committee.
Before joining Southend Hospital Radio, I had some experience working as a volunteer with BBC Essex for 7 years, which I thoroughly enjoyed and that is where I lost my fear of speaking into a microphone.
I love meeting the patients and their visitors and engaging them in banter when collecting their requests.
I like to think that laughter helps to speed up your recovery and I so try to inject some humour into the programmes with which I am involved and also thank you for your company as you listen to Southend Hospital Radio and I hope that you get well soon.