Profile: Ken Bennett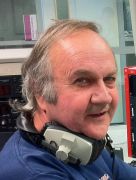 Howdy folks, I'm Ken Bennett, better known on the radio as KnnyB.
I first started working on Southend Hospital Radio in February, 2009 having been on the "listening" end for some time. That enabled me to appreciate the importance of the "lift" that can be enjoyed by every patient through listening to the hospital's own radio station, where they can participate in the fun by requesting their favourite songs.
During my time on air I have worked on various programmes including the Friday Night Fun and Frolics Request Programme, Sunday Prescription and It's Country. Currently, I concentrate on producing and presenting It's Country, which airs for 2 hours every Sunday at high noon. I like to think that my programme is both entertaining and informative and try to achieve this by playing music by long-established performers but also keeping up with the modern-day singers, even producing a Southend Hospital Radio Hot Country Top 20 chart every week. Such is my commitment that I have attended courses at a local college to enhance my broadcasting skills.
I have had an interest in radio since March 1964, when Radio Caroline first appeared. I have supported them ever since and still help to keep them broadcasting as I am a member of their support group. According to one of my presenting colleagues, I have the ideal face for radio. I'll leave you to judge that for yourself! Mind you, I'm also told that I'm "A Rebel Without A Clue", which I really appreciate as it reminds me of one of my favourite records by the Bellamy Brothers.
In real life, I am now retired having spent my working years in banking and politics; both so honourable! However, my previous work experience helps in my roles as Treasurer and Membership Secretary of Southend Hospital Radio. I also now produce the radio station's Top 100, based on the requests received from you, the listeners.
If you like country music, or even if you "think" that you don't, please do tune in to my programme. I feel sure that you'll find me playing some familiar songs and displaying my "special" brand of humour to try and help speed your recovery.