Profile: Ken Bennett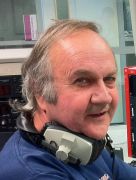 Hi folks, I'm Ken Bennett and in the past have broadcast on SHR as KnnyB
I started working on Southend Hospital Radio in February 2009 having been on the "listening" end for some time. That enabled me to appreciate the "lift" that can be enjoyed by patients though listening to the hospital's own radio station where they can interact with the presenters.
During my time as a presenter, I worked on various programmes including the Friday Night Fun and Frolics Request Programme as it was then known, Sunday Prescription and It's Country, in the latter years concentrating on producing and presenting It's Country, even producing a Southend Hospital Radio Hot Country Top 20 chart every week. I still get great pleasure in continuing that chart for my own amusement which enables me to keep up with the latest developments in country music.
I have had an interest in radio since March 1964, when Radio Caroline first appeared. I have supported them ever since and still help to keep them broadcasting as a member of their support group.
In real life, I am now retired having spent my working years mainly in banking. My past work experience has enabled me to assume various non-presenting roles within SHR previously including Treasurer, Membership Secretary and collator of the Top 100 most requested songs. I have recently resumed the role of Treasurer having taken a short break from active involvement in the station whilst re-charging my batteries!