Profile: Charlie Palmer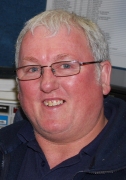 From the stresses of being an HGV driver… to the relaxation of the studio!
I first became involved with Hospital Radio back in 2000, when I visited the studios one Sunday afternoon and listened to a show with one of the presenters to see how it was all done.
As I sat in the corner of the studio, a microphone was put in front of me and the presenter just chatted away to me – before I realised it, I was "on air", and I've never looked back
After finding out the history of hospital radio and knowing of my own family's past involvement when it first started broadcasting in the 1970's, I wanted to join. I began my training on the following week, first visiting the wards, then being trained as a presenter, before finally progressing to get my own show.