Profile: Alice Ryan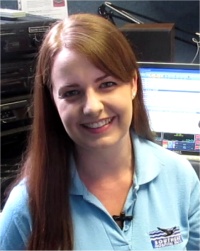 Acting and radio are big passions of mine and at Southend Hospital Radio it is an absolute pleasure to meet new people each week and make your stay here a little easier. Every visit to talk to you is a joy and I love the range of music that we are able to play for you. Having listened to the likes of Terry Wogan and 'Bunty' on Radio 2 from a very young age, I was fascinated about this form of entertainment and wanted to be part of radio magic!
Over the years I have worked at Premier Christian Radio, BBC Essex, Inrix, Time 107.5 and my voice has been heard on various online radio stations. I even had my own radio show when studying at ARU Cambridge called 'Stuck On Repeat!' Where we played a mixture of classic tunes to modern day music and my fellow presenter and I would host games, phone ins, quizzes and have fun with the 'theme hour'.
After a few months with SHR before going to University, I came back and have been part of various request shows and special promotional shows original games, features and chat ever since!
As a committee member, I use my professional knowledge and experience to help SHR grow as a creative, positive and efficient local charity.
It's a delight to be part of such a lovely team and to help bring some happiness to the patients during your stay.
We hope you enjoy the music and my best wishes for a speedy recovery!
Alice x
You can find out more about Alice via Twitter at @aliceeryan