Welcome to Southend Hospital Radio
Southend Hospital Radio is the radio service for Southend University Hospital, based in Southend-on-Sea, in Essex.
Our aim is to relieve the effects of sickness, infirmity and old age by providing a free, local radio service to patients in the hospital.
About us
Our service is available free of charge, 24 hours a day, 7 days a week to patients in the hospital, and relatives of those in hospital can also listen online over the Internet.
Our main show is our weekday evening Request Show, where patients and relatives can select a favourite song and have it played on-air. See our schedule for show times and more information.
When we're not broadcasting live programmes, we offer a mix of different style of music, chat, comedy and entertainment.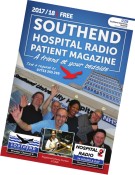 On the wards, look out for a copy of our 2018-2019 Patient Magazine, which provides information about what we do, our shows, and profiles of some of our team. An online version is also available: Patient Magazine 2018-19
Southend Hospital Radio is a registered charity, and your support is very much appreciated.