Studios
About Our Studios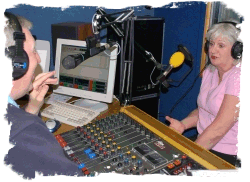 We currently have two studios, both are equipped with record decks, minidisc players, cartridge machines, dvd recorders and even a cassette player which gathers dust.
Each studio has a computer containing our current database within a programme called Music Master Professional and can call any track into the players instantly. All our jingles are stored on the servers and can be called into the three, on screen, jingle players. Any live phone call requests can be loaded whilst the patient is still talking and played instantly. The search facility on Professional is the same as in Producer, and again, programmes can be compiled for instant use, or saved for another day.
As with all things in life nothing's for nothing, and without the kind donations of various organisations, and the generosity of the public, our unique service would not be available.
Our Music Library
So the library is devoid of most vinyl records, 78's and relics of yesteryear.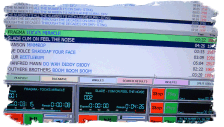 In it's place sits a nice flat screen monitor and computer containing our current database of some 17,000 items stored within a programme called Music Master Producer. Our 24/7 sustaining server runs on a system called RadioDJ.
We are now able to search by artist, title, year, chart position, year/chart position, combination or track length. This allows us to search instantly for any item, and more importantly to provide a speedier service to our customers i.e. the patients.
Another great feature to assist the request collectors is the ability to listen to any track on the system, should they need to check any record to see if it is what our customer has requested.
Adding to the database can also be done from the comfort of the library.
Our Music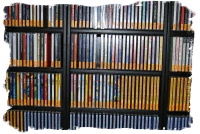 Not all of our music is computerised – we still break out the hamster and treadmill to play some vinyl occasionally, plus we do house a collection of CDs.
Our computerized music has been lovingly gathered from donated vinyl and cds, and compressed into the mp3 format.
Music is stored on two servers, one for the studios use, and the other powers our 24/7 sustaining service.
The servers both contain exactly the same music files and all our computers are networked so if one fails we can switch to the other (if they both fail it's back to the hamster). We use a UPS for the servers to sustain any power interruptions.
Want to contact the studios? Hospital Radio Contact Details