Profile: Simon James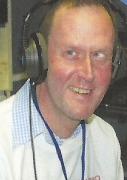 Hello, my name is Simon. I joined Southend Hospital Radio in January 2010, and I can honestly say that being with hospital radio has been the best time of my life.
I have always loved music and the first record bought by me was "The Pepperbox" by The Peppers. I have now built up a library of music, which covers the last five decades.
You can tune in to my show on a Wednesday evening from 6pm. Called "The 50s and 60s Show", this reflects my favourite era of music, and I hope you will find something in there to stir some memories.
To help raise money for the radio station, I completed a charity walk called "Walk The Front" some years ago, and more recently, have taken part in the Moonlight Colourthon, which is a 13 mile night-time walk around Southend.
I would like to give a big thank you to all the good friends I have made since I started at Southend Hospital Radio, especially to Dave and Joan Gold, who made me feel welcome and at ease when I joined.