Profile: Sean Donnelly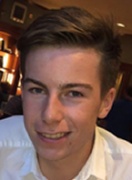 Hi my name is Sean Donnelly; I have been a proud member of the station since February 2019.
I'm currently part of the Thursday night 'Southend Hospital Tonight show' since I have joined the team I have been actively involved in collecting requests from visiting the wards around the hospital and talking live on air e.g. reading requests and local content stories. I have loved every minute of it since I have joined the team as everyone has welcomed me in and made me feel right at home within the station.
Every week on the show at 8:40pm and 9:40pm I talk about Southend United FC which is the team I support like many others at the station do. I talk about the latest matches, upcoming fixtures and latest news regarding the club.
I'm currently in my first year at University studying sports broadcasting however I have been studying media at college and at school for the last 6 years which is where I have gained my huge interest for broadcasting.
I wish you all the best and get well soon!