Profile: Lawrie Kurn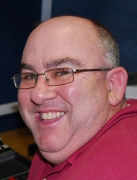 When I started my second stint with Southend Hospital Radio in 2002 (I was originally a member back in 1984), I came up with the idea of my show, known as "All The Number Ones". I decided that every show would have a theme to it, for example "Number ones with colours in the title", or the most weeks at number one.
My first show was back on November 2002. In that time, there have been some regular shows, such as Christmas Number Ones, Comic Relief, Eurovision Song Contest specials, and in total I've managed to find over 200 different themes.
I am still enjoying my weekly slot on hospital radio between 7pm and 8pm on Thursday evenings and I hope to continue for a few more years.