Profile: Ken Rudland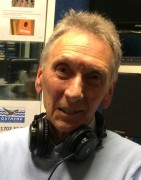 "Music was my first love, and it will be my last. Music of the future, and music of the past". These words are from the opening of Music by John Miles and sums up my love of music through the years.
It all started for me in the late 50s when by brother played 78s on a wind-up gramophone with a towel stuffed down the back to control the volume. The music of Eddie Calvert, Winifred Atwell and Elvis Presley were engrained in my memory. In the sixties along came pirate radio which meant a lot of late night listening on a small transistor radio. The seventies seemed like a good time to start up a mobile disco finishing up 30 years later with a residence at a banqueting venue.
So what next? I was fortunate enough to join Southend Hospital Radio in 2017 and met a wonderful team of volunteers. I started by supporting the Tuesday Night Request Show team, going around the wards before the show to chat to patients and see what we could play for them to brighten their evening.
I now present the Hit and Miss show on a Monday evening at 7.00pm where I choose a different year each week and pick the best tracks that made the top 20 charts that year and a couple of tracks that did not make the top 20. I also mention some local news item from the chosen year. I hope the show brings back some fond memories for you, depending on the year, and that you enjoy the mix of music played.
Long may we continue to be a "friend at your bedside" and keep you entertained.