Profile: Jonathan Johnson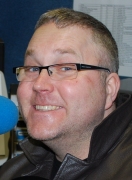 WE'VE BEEN TOGETHER NOW FOR FORTY YEARS…
It only seems like yesterday that I sat in my pram listening to Jimmy Young on Radio 2 in my Nan's kitchen. She used to have him on when he read out his daily recipes – she sent off for them – they sent them back typed on thin paper through the post (they used letters those days – there was no such thing as text or email of course!)
I don't read out recipes on my show, there's not a lot of demand for my double fudge parsnip cake on the wards and my jam tarts are too easy to require a list of ingredients – it's just jam and tart with pastry topped off with a sprig of cheddar. You can see, I'm a great cook and have a talent for food.
Hospital Radio didn't ask me to make their 40th Birthday Cake because they just "want a plain one". They don't want me to "go to all the trouble of making one of my creations", bless them. They are lovely people and very considerate. Volunteers of all ages. Some were born after the date we started broadcasting back in 1977, when Snickers was Marathon and Cadbury was Cadbury's. And the days when, aged 6, I frequently used Wagon Wheels for my go-cart because they were that big! They only lasted for "one go" down Leigh Cliffs though. I don't know what happened to the startled Station Master as I propelled through the entrance and collided with the 3.35 from Shoeburyness – but he retired the day after. I ate the evidence.
A lot has changed since Southend Hospital Radio began 40 years ago (still no loo in the studios), more news on the telly, things are happening that I don't understand – but I will always have radio to rely on. A safe haven where my brain paints the pictures. Radio is a filter for the soul. So, if you're listening to us throughout your stay in Southend Hospital you can be sure of a reliable service. Our team are experienced radio people, and work voluntarily for us!
We've now been on-air for over 40 years – Southend Hospital Radio, thank you for letting me be a big kid (aged 46 now) on the radio. Join our 40th radio birthday party on air! I promise not to cook. Who needs a cake anyway when Jaffa Cakes are just 99p (albeit the size of shirt buttons).
Goodbye for now, tune in to me, I'm off now to watch Scooby Doo and count my milk bottle tops for Blue Peter…