Profile: Dave Green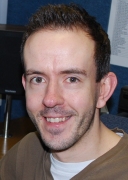 Hi, I'm Dave Green. I've been with Southend Hospital Radio since 2004. I present the Sunday Night Selection on, erm, Sunday nights with my good friend Jemma George. The aim of the show is simply to provide enjoyment, where myself and Jemma will poke fun at the world, ourselves and each other, while simultaneously playing a wide variety of great music, some of which you'll know and some you might not!
While most people today will look to their tablets and MP3 players with which to entertain themselves, hospital radio really does provide an incomparable atmosphere. It is, simply put, your station.
We volunteer our time to make your stay here a little bit easier, and if mine and Jemma's efforts have contributed to that, or will do in the future, then that's the best thing about doing this. We love radio and the entertainment it can provide.