Profile: Adam Davies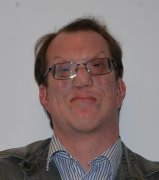 Greetings!
My name's Adam, and I'm part of the Tuesday evening Team for Southend Hospital Radio. It's a huge pleasure to meet and chat with you all every week.
I started as a member of Southend Hospital Radio mainly because I love most forms of music including pop, classical and musical shows: I'm also fond of voicing my opinions on most matters in the world of news, sport and entertainment! I'm following in the path of my father, who has been working for BBC Essex for many years, mainly as a sports commentator. I'm also involved in something called the Music Man Project, a show at the London Palladium, which is a key part of Royal Mencap's 70th anniversary celebrations.
I hope that you enjoy the Tuesday Request shows and the music that we play, and that you are very soon well enough to return home. It is always a pleasure to chat to you and (hopefully) to entertain you during what I hope will only be a short stay in Southend Hospital.