Southend Hospital Radio Sport
The Sport Show is centred around our exclusive live commentary on ALL of Southend United's first team home games. We broadcast the matches live from Roots Hall back to the hospital via ISDN (a very high quality telephone line)
On Saturday afternoons during the football season (and occasional Tuesday and Friday nights) you can tune in and enjoy listening to full live match commentary from kick off until the final whistle.
After the game we also provide a full-classified check on all the other games. Of course sport's not just about football, you will also hear about the other big sporting stories whether local, national or international.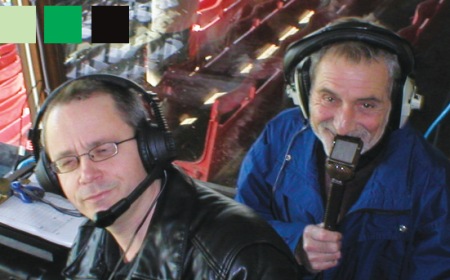 Our commentary position is within the press box at Roots Hall which measures approximately 12 foot by 6 foot, it has 14 seats and there are often several other commentators and reporters working for different radio stations all at the same time, so you can imagine how noisy, cramped and chaotic it gets. Not that we are complaining, we are privileged to be able to watch the best team in the land from the best seats in the house, if only the football was always as good as the view! We are situated at the back of the East Stand immediately behind the directors' seats just over the half way line, away to our left we have the two tier Frank Walton Stand, to our right is the North Bank which these days houses the away supporters and directly opposite we face the West Stand.
Don't forget, if The Blues are playing at home, the only place you can ALWAYS hear the full match live is on Southend Hospital Radio
Enjoy the match, and Up The Blues
David Alexander Gordon