Profile: Liz Smith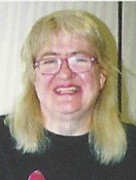 Hello. My name is Liz Smith. I have been a volunteer on Wednesday evenings since July 2013, and I love every moment of it.
I work as an administrator during the day in an office in London. I love cats! and I also enjoy doing amateur dramatics, especially panto in Rayleigh.
It is lovely to come to the hospital in the evening and meet the patients. I am so pleased to do something at my local hospital. No Wednesday evening is ever the same. I love meeting the patients and getting their requests, we talk about all different topics not just music! and we usually have a laugh too! The staff are lovely and friendly and sometimes tell us the music that they like too as do the relatives and friends of the patients. I also enjoy talking on the radio and I never run out of something to say, as people who know me well will tell you.
I had no idea how much variation of music I personally enjoy until I joined hospital radio. I work with a lovely team of volunteers as well I hope the patients enjoy it as much as I enjoy volunteering! Please keep listening and asking for requests.
Take care,
Liz