Southend Hospital Radio History
It's amazing to think that Southend Hospital Radio (formerly Thameside Radio) has been broadcasting to Southend Hospital for over 30 years. The radio station was launched at 11am on Saturday 5th February 1977, after the then Mayor, Councillor Neville Moss, made fundraising for a radio service at the hospital, the mayoral appeal during his term of office in 1976.
The idea of a Hospital Radio service came from a former patient and founder hospital radio member, Betti Thompson. Betti and her husband Mike, along with a group of friends, prepared a discussion paper which they put to the NHS District Management Team (headed by Malcolm Jeffries), which then took two or three months to go through various committees. They accepted the idea and 'Toc H', who had been transmitting sports commentaries from Southend Football Stadium to the hospital for years, came onboard.
To enable the radio station to begin broadcasting, various fundraising events were held. These included sponsored walks, cheese and wine parties, a greyhound meeting and local man, Chris Izod, had his ten-inch afro-style hair cut off. One of the walks was held on Southend Pier with two teams headed by Fred Laws, the Town Clerk and Neville Moss, the Mayor, competing to see who could raise the most money.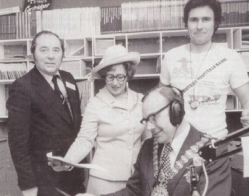 Ken Golding became our first Chairman and he presented the Mayor with a silver plate to thank him for his work in running the appeal, at the launch party in 1977. Ken sadly passed away some years ago. The late Cyril Jarman was Secretary of the radio service and also treasurer of the Mayor's appeal.
Mike Thompson was the first Programme Controller for Thameside Radio (now Southend Hospital Radio), a post that is still one of the most important on the radio station, and he broadcast the first programme heard on Hospital Radio.
The first record played was 'Isn't She Lovely' by Stevie Wonder, a request from the then Sister of Balmoral Ward at Rochford Hospital. 29th May 1977 saw the first of many outside broadcasts covering the Milk Race along Southend seafront. Other events covered in the first year included Southend Carnival, Leigh Regatta, It's A Knockout and Princess Margaret's visit in June 1977.
Our outside broadcast teams still go out in all weathers to cover a wide range of fundraising events for local organisations, including Hullbridge Fair and Rayleigh Lions Firework Display. Our most important event is Flag Day, which is held annually in Southend High Street
| | | |
| --- | --- | --- |
| Day one, Feb 1977 | The team of 1990 | Master control room (1986) |
| Mike Royston Bingo Beat | The team of 1994 | Donated Tape machine |
| The studio (1986) | The team of 1993 | Flagday label licking |
Here's to the next 30 years.
In early February 2007 Southend Hospital Radio celebrated 30 years of continuous broadcasting to the patients in Southend Hospital.
The celebrations commenced with a Jazz Evening with the entertainment supplied by Digby Fairweather and Tony Compton, those well known and well respected local and national musicians. An audience of close on 100 enjoyed a varied programme as well as a fund of stories from across a few decades.
On Saturday 10th February, the station held a Celebration Party to mark the occasion. Invited guests included the Mayors of Southend and Castle Point, three local MPs, Members of the Board of Southend Hospital Trust and current and past members of the station. To keep patients in the link, a number of Presenters took part in a 24 hour continuous Marathon Broadcast.
The objective, which was achieved, was to play as varied a style and content of music as possible and never to play the same tune or song twice in the period.
During 2008, the station held a Brass Band Evening at Rochford Hundred Rugby Club. The music was provided by Brentwood Brass, and the event yielded £1,300.