Events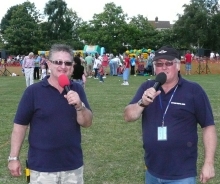 Southend Hospital Radio Service is funded totally by donations from the general public, private companies and the dedicated fundraising activities of its members.
In Southend and the surrounding areas you can see the Southend Hospital Radio Outside Broadcast Unit at fetes, fairs, the Rayleigh Lions Firework Displays and of course in
Southend High Street for our Flag Day.
The team goes out in all weathers to cover a wide range of fundraising events for local organisations, including Hullbridge Fair, a number of school fetes, and Rayleigh Lions Firework Display. Our most important event is Flag Day, which is held in Southend High Street in summer or autumn.
We must also not forget our home game football commentaries direct from Southend United's Football Club to our patients, and for the blind at the game.
So, if you feel you would like to contribute to the running of Southend Hospital or donate your time to this worthwhile voluntary service, please write to us at our studios at Southend Hospital.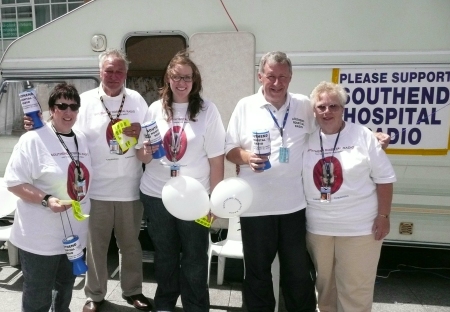 Our team at a recent Southend-on-Sea Flag day
Running an event in the Southend-on-Sea area? Please get in touch if you'd like us to attend.
Please see our News Page for details of recent events
Other Links:
Fundraising – How Southend Hospital Radio raises its funds
Southend Hospital Radio relies on various fundraising activities to cover our operating costs.