About Southend Hospital Radio
About Us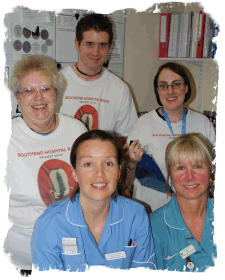 We're here to provide a free music and entertainment service for the patients of Southend Hospital.
Our key objective is spelt out in our Constitution: "The aim of the Charity is to relieve the effects of sickness, infirmity and old age by providing a local broadcasting service to the patients of Southend Hospital"
We're based at studios behind the main hospital building, and have around 60 volunteers helping out in all aspects of providing a radio service, from visiting patients on the wards, presenting programmes, running outside events, fundraising and technical.
We hope to be able to offer a free service that brings enjoyment and relaxation to each and every in-patient across the Hospital.
How to listen:
Southend Hospital Radio is available free to patients in Southend Hospital.
Patients can listen to us online using the hospital's free wi-fi system. To listen, connect to the hospital's free wi-fi system and go to www.getshr.uk
Our Shows:
The activities we undertake are centred on a schedule of live broadcasts each evening from 6pm to 10pm with the main element being the Patients Request Show. This is typically a 2 hour show starting at 8pm.
Other supporting programmes cover a range of different types and style of music plus occasional comedy, interviews and chat.
Our Members:
The present register of volunteers is between 50 and 60. Recruiting is an ongoing activity. All Members are encouraged to perform Ward Liaison work as well as learning to be Presenters. More on membership
Our Finances:
Our service is funded by donations and fundraising activities. These include street / store collections and fees from outside events in the area. None of these are guaranteed annual sums and with our costs rising we have to put sums aside to ensure continuity of broadcasting in the year or two ahead. For more, see out fundraising page.
Service Standards from a broadcasting viewpoint have been based on similar lines to those of the BBC. Training for our Presenters has been via a Hands-On approach which we recognise has some limitations
The content of Music played on the system is monitored and unsuitable pieces removed
Ward Liaison personnel are vetted and monitored by senior members of the Management team from the outset of their training.